Schedule
Wednesday | Thursday
Click on the session title to be taken to the description.
Wednesday, July 28, 2021
9:45-10:30 am CT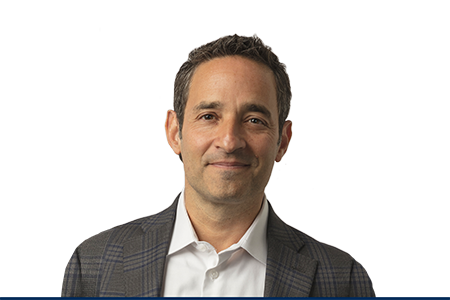 Keynote
Big Little Breakthroughs
Josh Linkner, five-time tech entrepreneur, hyper-growth CEO, New York Times bestselling author, professional jazz guitarist, and host of Creative Troublemakers Podcast
10:45-11:30 am CT
Concurrent Tracks
Post-Pandemic Recovery and Rebuilding
Improving Value with Hospital-at-Home
Bruce Leff, MD, Professor of Medicine, The Johns Hopkins University School of Medicine; Albert Siu, MD, MSPH, Director, Mount Sinai at Home, Mount Sinai Health System; Linda DeCherrie, MD, Clinical Director, Mount Sinai at Home, Mount Sinai Health System; David Levine, MD, MPH, Assistant Professor of Medicine, Brigham Health, Harvard Medical School; and Julia Resnick, MPH, Senior Program Manager, Strategic Initiatives, American Hospital Association
Sponsored by: The John A. Hartford Foundation

Leading for Resilience and Transformation
Organizational Health and Resiliency during Disruptive Times
Michelle Janney, PhD, RN, Executive Vice President and Chief Operating Officer, Indiana University Health and Ron Stiver, President of System Clinical Services and Value Based Care, Indiana University Health
Sponsored by: American Medical Association

Behavioral Health Integration
A New Narrative for Behavioral Health
Patrick Runnels, MD, Chief Medical Officer, Population Health, University Hospitals of Cleveland; Jeanne Lackamp, MD, Director, Population Health Institute/Vice Chair Psychiatry, University Hospitals of Cleveland; and Peter Pronovost, MD, Chief Clinical Transformation Officer, University Hospitals of Cleveland

Governance Excellence
Back to the Future: Governing Differently for Health Care's New Normal
Jamie Orlikoff, President, Orlikoff & Associates, Inc.
Sponsored by: iProtean
11:45 am-12:30 pm CT
Partner Programming
Lessons Learned: Navigating Shifts between In-person and Virtual Care
Katie Logan, Chief Consumer and Strategy Officer, Piedmont Healthcare; Jennifer Melby, Executive Director of Experience, Piedmont Healthcare; and Joshua Titus, CEO and Founder, Gozio Health
Sponsored by: Gozio Health

Strategies to Manage Provider Stress Amid Staffing Shortages and Increasing Workloads: From the Pandemic and Beyond
Ryan Dalton, MD, Quality Improvement, Department of Anesthesiology, Ohio State University and Patrick Hunt, MD, Chief Medical Officer, QGenda and Emergency Medicine Physician
Sponsored by: QGenda

Positioning Your Organization as a Destination Employer for Your Executive Leadership Team
Joe Moscola, EVP, Enterprise Management, Northwell Health; Jim Hebets, President, The Hebets Company; and Jamie Hebets, Senior Vice President, The Hebets Company
Sponsored by: The Hebets Company

Creating Time to Care with AI-Powered Workflows
Tim Ruff, Chief Product Owner, 3M Health Information Systems
Sponsored by: 3M
12:45-1:30 pm CT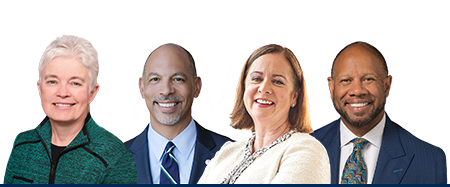 Keynote
Equity of Care: The Health Equity Journey in Advancing Health for All
Melinda L. Estes, MD, President and CEO, Saint Luke's Health System; Eugene Woods, President and CEO, Atrium Health; Janice E. Nevin, MD, President and Chief Executive Officer, ChristianaCare; and Wright L. Lassiter, III, President and Chief Executive Officer, Henry Ford Health System
1:40-1:55 pm CT
Visit the Digital Resources Hub
2:00-2:45 pm CT
Interactive Roundtables
The Future of Health Care Leadership
Rodrigo Alban, MD, Associate Director Performance Improvement, Cedars-Sinai Medical Center; Ji Im, MPH, System Director II, Community and Population Health, CommonSpirit Health; Blake Lindley, MSHA, System Director, Planning & Market Intelligence, Edward-Elmhurst Health; Marie Borgella, RN, DNP, Nursing Director, Massachusetts General Hospital; Andria Moore, MN, RN, CPHQ, CCRN-K, Program Manager Nursing Practice and Quality, Providence Health & Services; Laura Griffin, MHA, Vice President, Nursing Operations & Strategy, Allegheny Health Network; and Danielle Noreika, MD, FACP, FAAHPM, Medical Director, Palliative Care, VCU Health

Accelerating the Virtual Care Model by Applying Previous Solutions to New Use in 15 days
Shana Horseman, Director of Quality Outcomes, Saint Luke's Health System; Alicia Beebe, Director of Clinical Informatics, Saint Luke's Health System; and Kimi Magno, Clinical Informatics Specialist, Saint Luke's Health System

Shared Solutions: COVID-19, Climate Change, and Health Equity
Jon Utech, Senior Director, Sustainability Strategy, Cleveland Clinic and Beth Schenk, Executive Director of Environmental Stewardship, Providence

Leveraging EHR Digital Innovation to Improve the Patient Experience and Workflow Outcomes
Anthony Brown MBA, PMI-ACP, Director of Application Services, Kettering Health Network; Venus Jones, Director, Revenue Cycle Systems, AdvantageCare Physicians; and Vik Krishnan, General Manager, Digital Workflows & Healthcare, Intrado
Sponsored by: Intrado

Clinical Innovation: Utilizing Breakthrough Technology for Patient-Specific Care
Gaurav Manchanda, Medical Markets Lead, Formlabs, Inc.; Todd Goldstein, PhD, Director, 3D Design and Innovation, Feinstein Institutes for Medical Research, Northwell Health; Amy Alexander, MS, Unit Head, Biomechanical Development and Applied Computational Engineering, Mayo Clinic; and Summer Decker, PhD, Associate Professor and Vice Chair for Research, Director for 3D Clinical Applications, USF Health Morsani College of Medicine
Sponsored by: Formlabs, Inc.
3:00-3:45 pm CT
Concurrent Tracks
Post-Pandemic Recovery and Rebuilding
Strategic Planning and Growth: A Drama in Five Acts
Mike Slubowski, President and CEO, Trinity Health; Dan Roth, MD, Chief Clinical Officer, Trinity Health; Sheri Shapiro, SVP and Chief Strategy Officer, Trinity Health; and Ben Carter, Chief Operating Officer, Trinity Health
Sponsored by: Ryan Companies

Innovation, Virtual Care and Digital Health
Digital Strategy: Balancing Transformative Visioning and Practical Application
Stephanie Fendrick, Chief Strategy Officer, Virtua Health; Tarun Kapoor, MD, Chief Digital and Transformation Officer, Virtua Health; Tom Gordon, Chief Information Officer, Virtua Health; and Tom Kiesau, Director, The Chartis Group
Sponsored by: Accenture

Governance Excellence
The Board's Role on the Value Journey: How Trustees can Help Hospitals and Health Systems Achieve Health Equity
Jhaymee Tynan, Consultant, Global Health, Public and Social Sector, and Diversity, Equity, and Inclusion Practices, Egon Zehnder; Nichole Wilson, DPT, MBA, Vice President of Integrated Primary Care and Ancillary Services, Community Health Network; Phoebe Yang, Board Member, CommonSpirit Health; Winfred Parnell, MD, Board Member, Parkland Center for Clinical Innovation; and Priya Bathija, Vice President, American Hospital Association
Sponsored by: The Joint Commission

Post-Pandemic Recovery and Rebuilding
The Quest for Quality: Achieving Quality Health Care and Advancing Health in Communities